Heið's Forest Gift Sets

We are proud to announce our newest product line and welcome Alchemy Gothic to our family of suppliers.

The Rasura Arta Shaving Set Includes..

Rasura Arta Mach 3 Razor
Made to the worlds most popular safety blades, the patented Gillette Mach 3. Wet shaving, with traditional shaving soap and brush, gives by far the most comfortable, (and non-allergic), closest possible and most satisfying shave of all!

Rasura Arta Shaving Brush
Made with the latest technology, moisture-retaining synthetic, simulated badger-hair bristle.

Rasura Arta Stand for Brush & Razor
Territorial rights for the dark man of style.

Rasura Arta Shaving Bowl
Traditional, black-glazed porcelain bowl with the Latin 'RASURA ARTA' (A Close Shave) - incised into the 'caput mortem' crest badge; to take standard shaving soap blocks.

Rasura Arta Shaving Soap
Subtly fragranced with salubrious Aloe Vera, giving an excellent lather for a comfortable shave that leaves the skin exceptionally smooth and soft.

Made from the finest english pewter and bone resin from Alchemy 1977

MSRP $450.00 OUR Price Only $399.00

you save $51

Also From Alchemy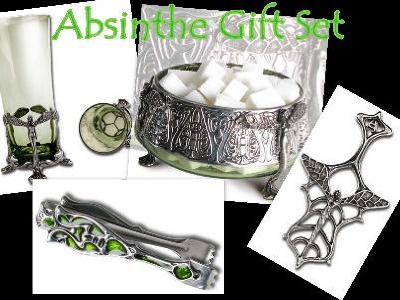 Absinthe Gift Set

Everything you need for your Absinthe...

La fee Verte Tumbler
Traditional tall absinthe tumbler, in forest glass for taking absinthe with water and sugar. Approx. 180mm high.

La fee Verte Absinthe Spoon
Traditional sugar cube strainer for watering down absinthe.

Muse de Boheme – Sugar Bowl
Art Nouveau inspiration culminates in this antique style, green forest glass sugar bowl with pewter engraved band and Absinthe Fairies. The perfect accompaniment to our Absinthe Collection.

Muse de Boheme – Sugar Tongues
Art Nouveau inspired sugar tongues, mirroring our Muse de Boheme sugar bowl.

Made from the finest English pewter and beautiful crystalglass from Alchemy 1977

.

MSPR $290.00 Our price Only $265.00

You Save $25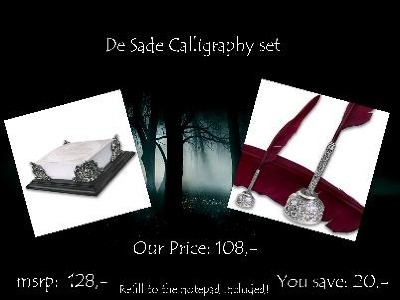 De Sade Calligraphy Set

Beautifully crafted calligraphy set from Alchemy Gothic. Comes with pewter paper holder, pen and pewter pen holder. Complete with paper refill.

MSRP $128.00 Our Price $108.00

You save $20