Great offers and box sets...

Whether you are new to the wicca/pagan path or you have been practicing for years, having the right tools and items are important. Here we have put a few boxes together.

NB: If you want to order these sets you will have to send us an email with your exact order. Some of the items you have a choice on, (design,colour,etc.) please write exactly in your order what you want. If you are ordering rings write down ring number and size. 3-6 weeks shipping time on all boxes.

The apprentice box

The apprentice box is a very fair prices set with everything you need if you are new to the path. This box contains everything you need for your altar.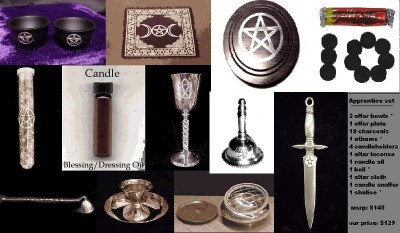 You get:

2 offer bowls (choose between gold or silver) 1 altar disc , 10 charcoals, 1 athame (choose black or white pentacle) 4 candle holders, 1 bell, 1 altar incense, 1 altar cloth, 1 candle blessing oil, 1 chalice (choose pentacle or triquetra) 1 incense burner, brass candle snuffer.

msrp: $145 our price:$125

Deluxe Altar Set

Our deluxe Altar set is a very fair priced set for those who want something more fancy and pretty looking.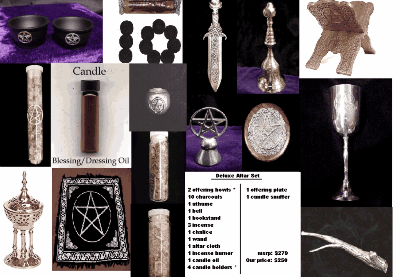 The deluxe set contains:

2 salt/water bowls (choose gold or silver), 1 bell, 1 athame, 3 incenses (altar incense, clarity incense and protection incense) 1 pentacle altar disc, 1 chalice (8") 1 altar table cloth, 4 pentacle candle holders, 1 pentacle bell snuffer, 1 bookstand, 1 celestial incense burner, 1 branch wand, 1 candle blessing oil and 10 charcoals

msrp: $279 our price: $250

Handfasting Set

Here is a beautiful set with everything you need for your Handfasting ritual. You can choose this box with or without rings.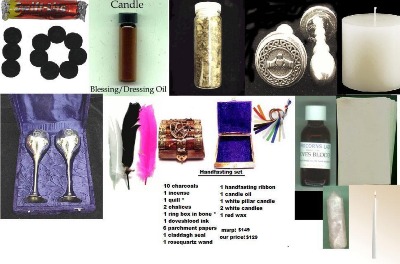 This box contains:

10 charcoals, 1 candle blessing oil, one relationship incense, 1 red wax, claddagh wax seal, 1 white pillar candle, 1 rosequartz wand, 1 doves blood ink, 6 parchment pepers, 1 ring box in handcarved bone (choose pentacle or triquetra) 2 taper candles in white, 2 silver plate pentacle chalices, 1 quill (choose between black,white and pink) 1 handfasting ribbon rope

msrp: $149 Our price: $129

(if you want rings as well please add the price of the rings to the box price)

Rings we offer

You can mix and match these rings as you please, so you and your soulmate get the perfect set.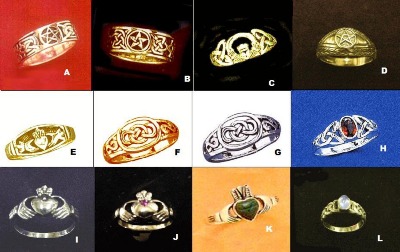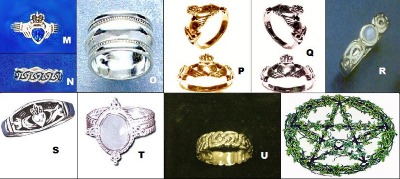 Ruby: Ruby is considered the stone of love

Malachite: Malachite is the stone of transformation

Moonstone: Moonstone is the stone of balanced emotions.

Blue Crystal: Crystal is the stone for pureness of the heart
blue is the colour of peace.

A - 12 mm celtic pentacle ring silver $38
size:6,7,8,9,10

B - 12 mm pentacle 14k gold band ring $220
size: 6,6½,7,7½,8,8½,9,9½,10,10½,11,11½,12

C - claddagh and triquestra 14 k gold ring $179
size:5,5½,6,6½,7,7½,8,8½,9,9½,10

D - pentacle 14k gold ring $200
size:5,5½,6,6½,7,7½,8,8½,9,9½,10,0½,11,11½,12,12½,13

E - Oval Claddagh 14 k gold band ring $179
size: 5,5½,6,6½,7,7½,8,8½,9,
F- encircled infinity knot celtic 14k gold $210
size: 5,5½,6,6½,7,7½,8,8½,9

G - encircled infinity knot celtic silver ring $29
size:5,6,7,8,9

H - garnet and simple siver triquetra ring $39
size:4,5,6,7,8

I - Ruby Jeweled Claddagh Silver Ring $49.99
size:5,6,7,8,9,10,11

J - Ruby Jeweled Claddagh 14k Gold ring $225
size:6,6½,7,7½,8,8½,9,9½,10,10½,11

K - Malachite Claddagh ring in silver $35
size 4,5,6,7,8,9

L - Celtic woven shank rainbow moonstone 14k gold ring $245
size: 5,5½,6,6½,7,7½,8,8½,9,

M - Claddagh silver with blue crystal $30
size:4,5,6,8

N - Celtic knot silver band thin and simple $20
size:5,6,9,11,12

O - Deep braided band silver $35
size:5,6,7,8,9,10,11,12

P - OLD STYLE claddagh and triquestra 14 k gold ring $199
size:5,5½,6,6½,7,7½,8,8½,9,9½,10

Q - OLD STYLE claddagh and triquestra shank silver ring $49
size: 6,7,8,9,10,11

R - infinity knot rainbow moonstone ring $36
size: 5,6,7,8,9

S - Oval claddagh silver band ring $29.99
size:5,6,7,8,9

T - Triple band four point bali moonstone silver ring $35
size:5,6,7,8,9,10

U - Wide traditional weave 14k gold ring $240
size:5,5½,6,6½,7,7½,8,8½,9,9½,10,10½,11